Tournaments 2008
Club Championships 2008
In 2008 the junior championships joined the adult championships, all finals were held on Saturday, September 20. The weather had been kind for the preceding week and the finals were held in unbroken sunshine.
Men's Singles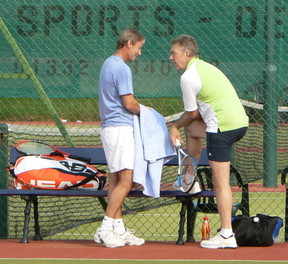 Winner: Filip Feret
Runner up: Geoff Cook
The seeding was correct, the Final pitted No. 1 seed against No. 2 seed with the No.1 seed winning the title. The route was not easy though; Filip overcame Alex Harrison in a close early match, then met 16-year old Tom Lister in the semi-final. Tom won the first set, but Filip ended up as the winner in a very hard-fought match. Tom's serve is one of the best in local tennis and the match was played on Friday evening, with the Final following on Saturday morning.
Geoff had also completed some tough matches against Adam Stables and Andy Livingston, but the Final was over in 2 sets.
Both these finalists heralded a break in tradition, the event had previously been won by Mark Elks (5 times), Julian Harrison and Richard Harrison. The Final normally includes at least 1 of these 3 members.
---
Men's Doubles
Winners: Andy Livingston and Keith Stringer
Runners up: Tom Lister and Mike Harwood
This Final was a 3-set marathon, each set being decided by a tiebreak. Tom's serve was virtually unbreakable but Andy and Keith just managed to win the final tiebreak and therefore the match in an entertaining, 2-hour game.
---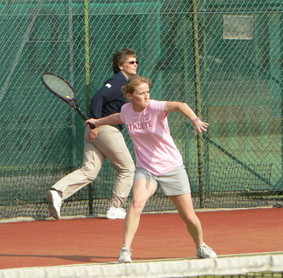 Ladies' Singles
Winner: Carol Winfield
Runner up: Ellie McCance
This was a repeat of last year's Ladies Final but the result was reversed. This time, the more experienced Carol beat Ellie in 2 sets.
---
Vet's Doubles
Winners: Rob Caranza and Janet Horsley
Runners up: Tony Mockridge and Aileen Hammersley
Rob and Janet beat Tony & Aileen in a 2-set match. Hopefully next year, more people will enter this category as probably over 40 veterans play regularly at the club.
---
Boys' 16 and Under Doubles
Winners: Nick Fairhurst and Sam West
Runners up: Toby Garner and Geraint Waters
Thanks go to Toby and Geraint for playing in the Final as confusion led to their half of the draw not having been played. However they fought well and the stronger pairing of Nick and Sam won in 2 sets.